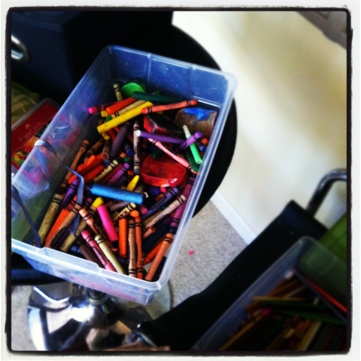 The process of unpacking and then re-organizing your home convicts you of the tyranny of your stuff. The hours I've spent this last week and a half in "home-making" are really hours spent in taking care of the ridiculous amount of material goods that we possess. Now that we're in the new house and loads of empty boxes have gone to the recycling center, it's time to find a place for everything and get everything in its place.
I'm not sure we have a place for everything.
As I toted the eighth plastic box full of kids craft supplies from one room to the room where I suspect (if I can get some shelves installed), I wondered who in their right mind needs an entire shoe-box sized bin of crayons. My friend Stephanie, who has raised a child to high-school-age, while living in Chicago apartments and condo units, told me I would be thankful for the use of precious storage space if I saved those craft supplies because of the usefulness for every random school project over the years.
When my Grandpa Loyd was about Zora's age, his family moved from Kansas to California. I can only assume there was not room in their car for such luxuries as 400 crayons.
Grandpa Loyd's grandpa (my great-great-grandfather) owned a general store in their little town. One of Loyd's girl cousins tells the story that once, their grandfather gave Grandpa Loyd, the much-beloved boy-grandchild, a pack of crayolas. He ate them. His girl cousins were horrified.
I bet there are 400 crayons in our stash. And Zora frequently begs for a new set of 96 crayolas. I haven't caved, but I've considered it. It's a little embarrassing.