It's time to revisit knitting. Sorry, theologians…
Here's a list of what I've completed (or almost completed) in the last few months:
Christmas hats for cousins Jon (done by Christmas) and one for Jake (needs a seam yet…good thing winter comes every year!)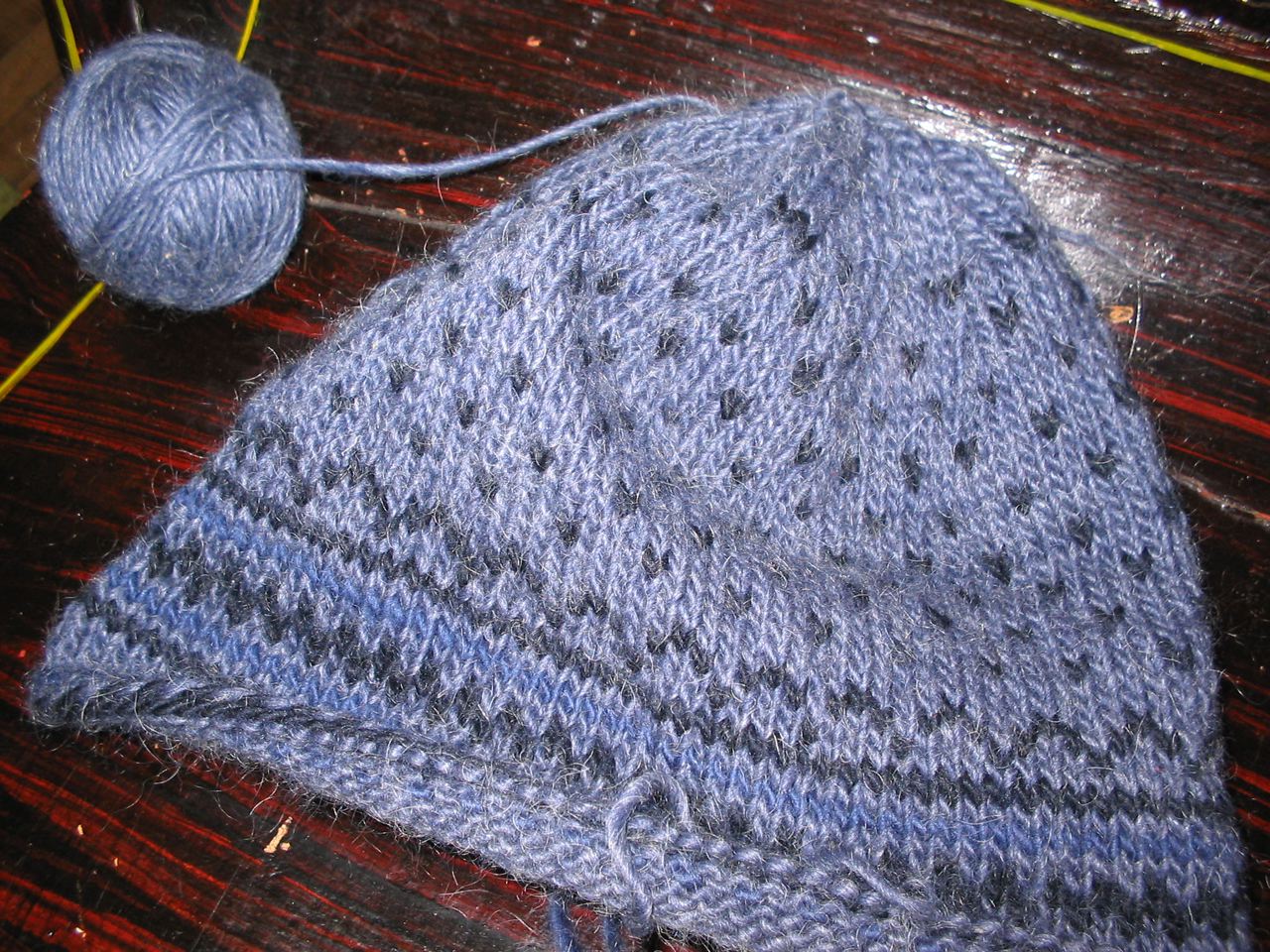 This dear hat for Zora (who figured out the week I finished it how to pull off a hat). My design, border taken from Nicky Epstein's Knitted Embellishments. The picture doesn't do it justice: it's a wonderful green alpaca blend with some slightly tweedy color variation. The border is a pattern of overlapping leaves, and I put blue and lavender ribbons through a series of eyelets above the leaf-border.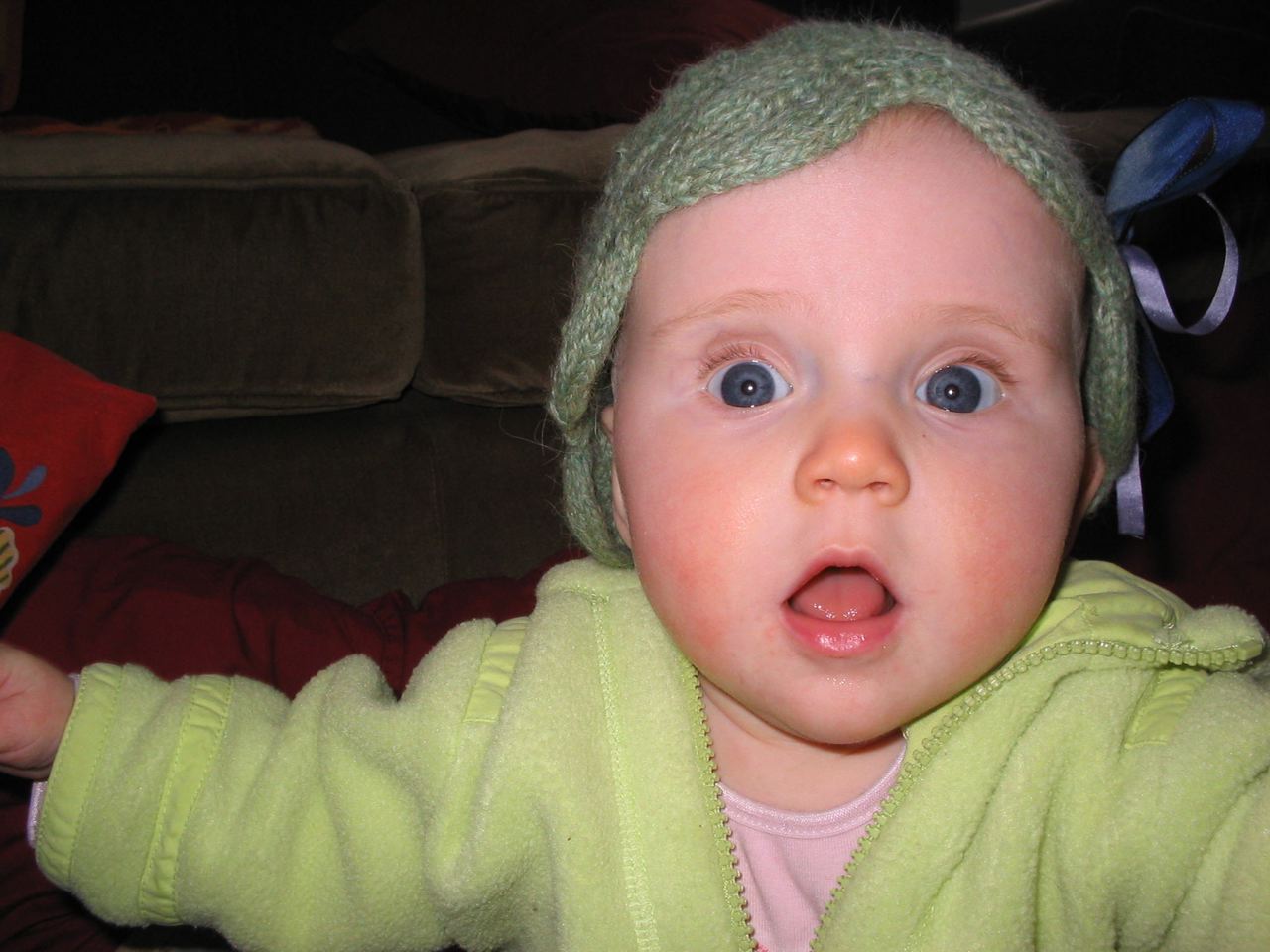 Hand warmers for Erik, using bits and pieces of Noro that I had from other handwarmers. This is the first of the manly handwarmers, inspired by the womanly ones I've made my sisters. The pattern came from Knitting with Balls, a great read for women who knit for men.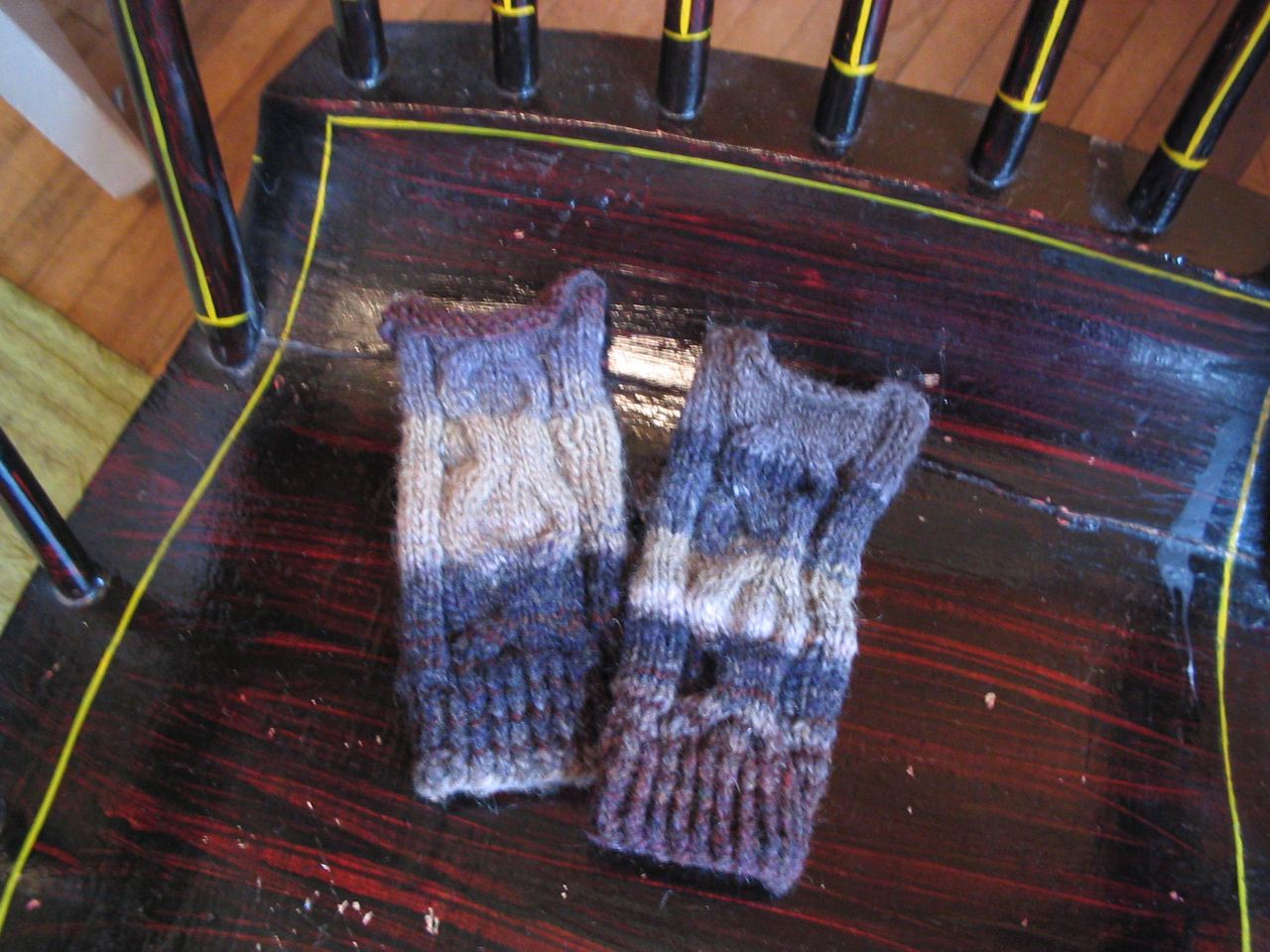 A list of what I'm seriously working on:
My own handwarmers, finally. Pattern is Fetching from Knitty.com.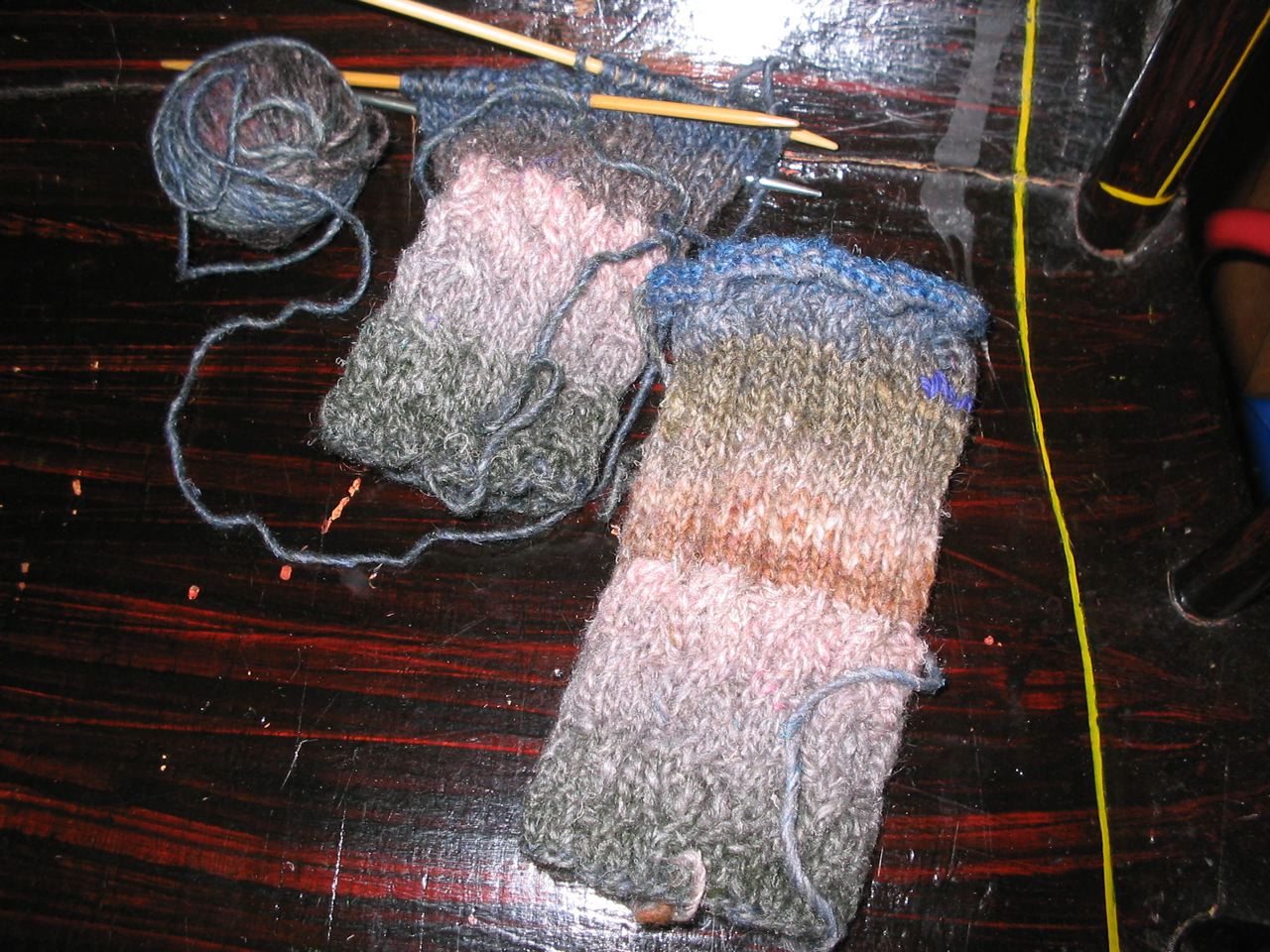 That stupid log cabin baby blanket that never seems to get done. I might just set it aside until I need a seriously mindless project.
A hooded, short sleeved pullover for Zora. The yarn is bamboo: who ever heard of that? And it's the softest, nicest, drapiest stuff ever. I love the stripes I've put in. So far, doesn't it look like something she should wear with little baby-All-Stars? It's another Knitty pattern: Vestee.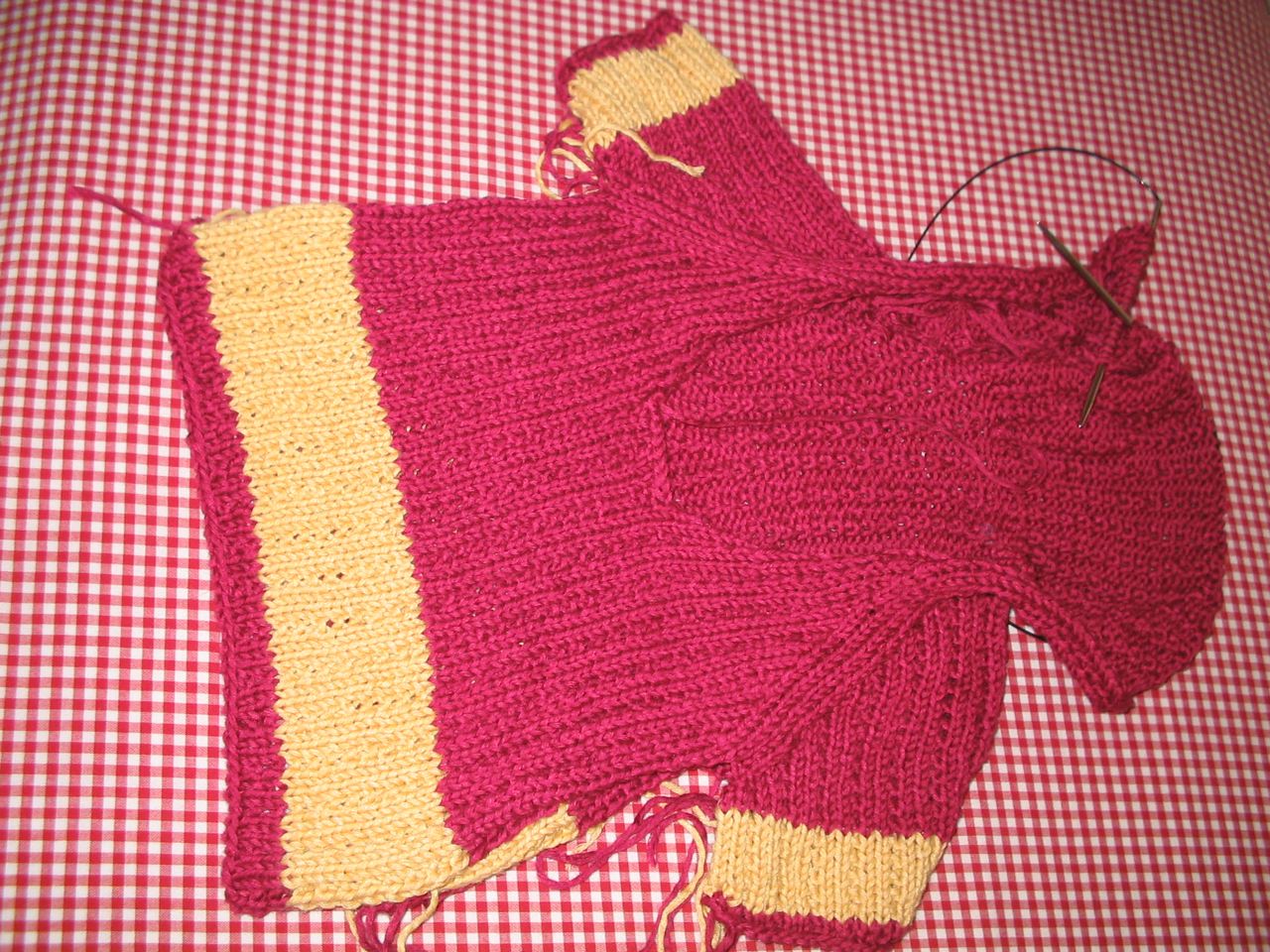 And things that are coming down the pike:
Mittens for the woman at church who bid on them at the youth group silent auction in January. She wants something like these, but with some black in the color scheme. (Sad story about these mittens: I think they might be the best I've ever knit for myself. They're the Lapp mittens from this book. But I lost ONE within the year I knit them. It's harder to lose one than two because then you've got the one that's left glaring at you. I probably need to try to recreate the mate for myself, but then I've got to find the yarn.)
Handwarmers for Justine, my sister Anna's friend, who loves Anna's so much that I offered to make her a pair if she buys me the yarn.
I just read two of Elizabeth Zimmermann's books, so I'm starting to think about the possibility of knitting one of her amazing, virtually seamless sweaters. Maybe for Zora first. Or, maybe the very cool Baby Surprise Jacket as a way to use up some odds and ends of blue yarn. I haven't figured out yet if it'll be too small for Zora, or how to modify the pattern to make it big enough for her.
But, I've also been waiting for a wonderful idea about how to use some gray and white rabbit yarn that Anna bought me. there;s not much of it, so I've been thinking about using it create a patterned border around the edge of an off white cardigan. But, the Elizabeth Zimmermann reading has me wondering about using it in a fair isle yoke design.