OK, time to get honest about the description of this blog.
I've always claimed that this blog is about knitting, among other things, and I had planned to track my knitting projects on the blog. But, that has never really happened.
So, here it goes–a list of what I am currently working on: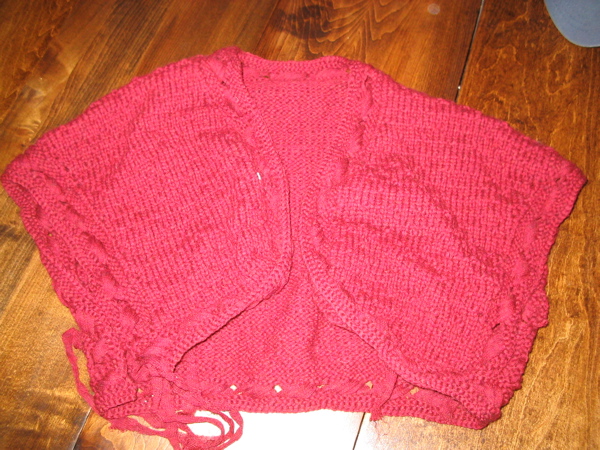 A short sleeved sweater for me that is almost nearly done, and should look great this fall. (Anyone think they can see a way this could work over a white blouse?)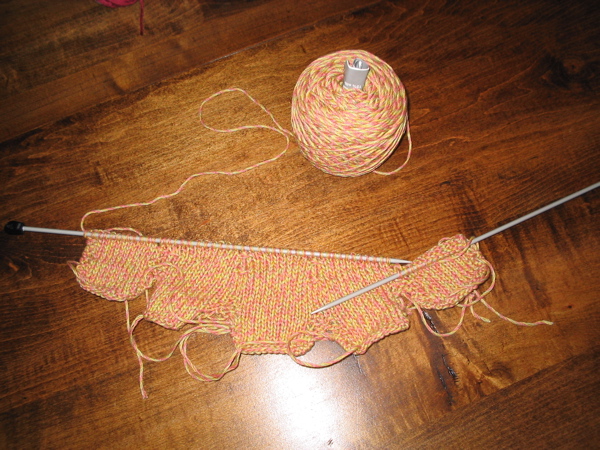 A bib for Zora. The yarn is an amazing cotton silk blend. I think it is currently bigger than her head and torso combined. But she's getting bigger (8lbs 7oz at the doctor yesterday!) But she needs bibs now…I've got to find a smaller pattern.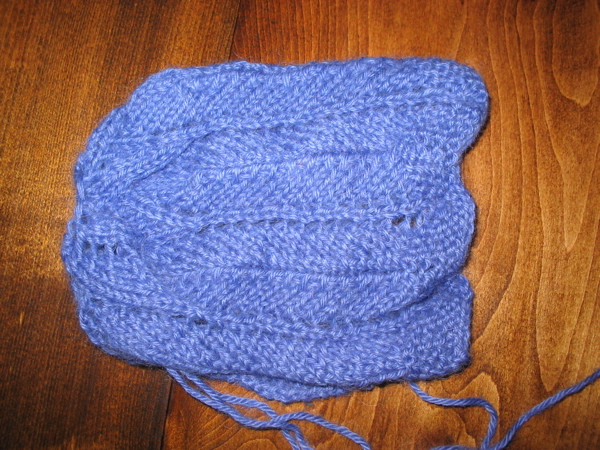 A hat for Zora. This will be a bonnet style cap with big bows that I need to attach yet at each ear.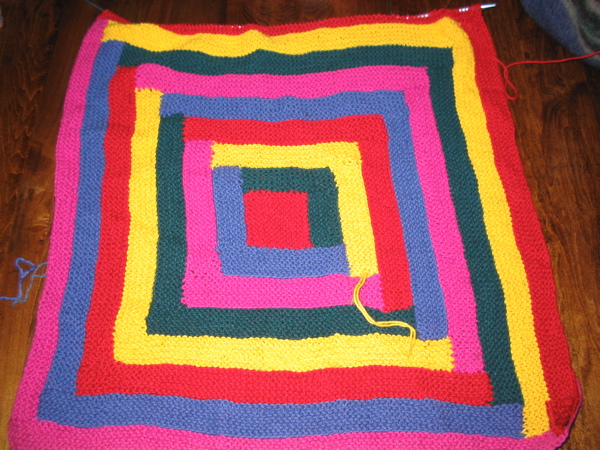 A log cabin blanket for Zora.
A red and white cotton sweater vest for Zora that I started in March and have since decided to unravel.
Notice the theme here? One of the joys of babies is that they are so small! Knitting for them happens very quickly.
Just to make myself feel better, here are things that I recently completed knitting:
Many sets of thick-wool, quick knit baby slippers for friends who had babies along with me (welcome, Gracie, Julia, Lilly, and Tim and Heidi's impending pumpkin!). Come to think of it, there's an extra pair for Zora buried somewhere in my knitting bags…
A sweet little hat for one of those babies (when I got sick of the booties).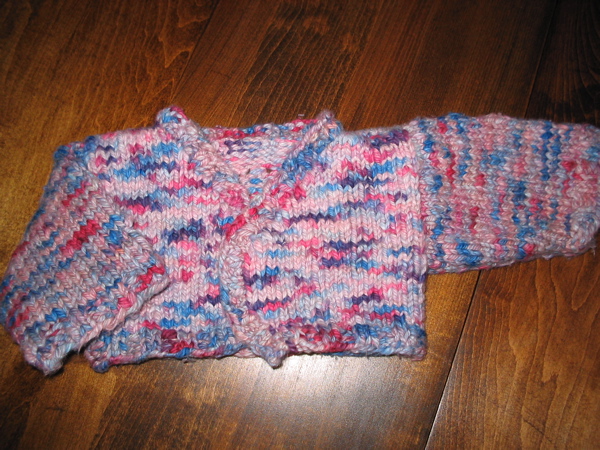 A bolero sweater for Zora. Erik picked the pattern and the yarn. It's the best part of my favorite outfit she's had on so far…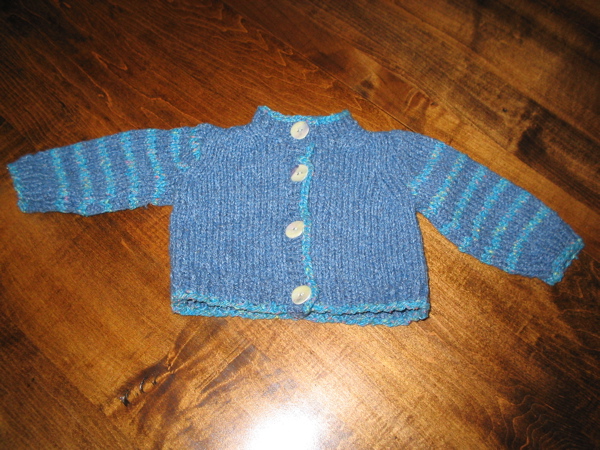 A little blue cardigan for Zora. I'd like to congratulate myself on using scrap yarn for this little number.
And then, the next few things I want to knit: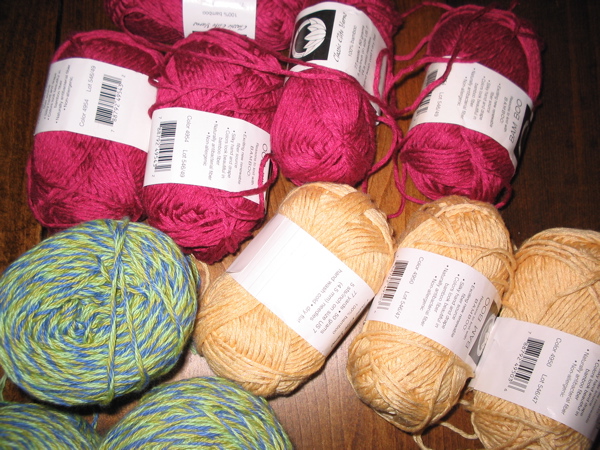 One of my favorite LYS (Local Yarn Shops, non-knitters) is going out of business. During my 5 days of fun false starts to labor, my Mom stopped in to buy me some yarn for a bib (see above), discovered the sad news, coupled with the great sale, and bought me a pile of yarn. Item number one from that pile–bamboo yarn (yes, 100% bamboo) in pink and straw yellow. Should be enough for a pretty magnificent sweater for…Zora! To make this even more fun, I should have some of that bib yarn left over for an edging or something to go on this sweater.
Variegated cotton/wool blend yarn in greens and blues from the sale. Perhaps a sweater or little pants for Zora.
Lace weight red alpaca yarn for a tank top for my Mom. (She buys me yarn to make her things. But alpaca is so nice to knit with that I can't complain…) The joke here is that I plan to use all these skeins to make a tank top that comes from the book One Skein. But the skein used in that pattern was incredibly huge…incredibly…
A lovely yarn, wool cotton blend, natural dyes, the great find of our driving trip from Chicago to LA last summer, produced one of my favorite projects from last year, a hat and hand warmers. I have enough left to do something for Zora. I'd like to use the same lace pattern and maybe make her a little hat like mine. But I am only planning matching clothes for us because my hat is so wonderful that I cannot imagine denying her the pleasure of one of her own.
All of this brings up one frightening question: when do I plan to do this knitting? Right now, I sleep and feed the baby. Has my life changed forever so that I can no longer knit? Probably not, but I'll have to find some new ways to fit it in!
Stay tuned for updates!