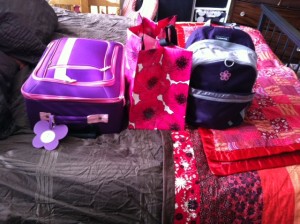 Zora is off to California tomorrow with Grandma and Grandpa. I'm in charge of packing, or so I thought.
After dropping her off at preschool, I discovered that she began packing last night.
So what does a 4 year old pack for a weekend trip to see her Great Grandfather in Los Angeles?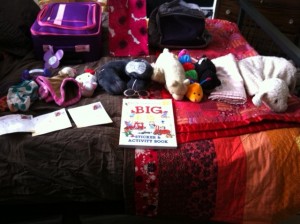 Stuffed animals (lambie; black bear; caterpillar; polar bear; kitty neck pillow; hello kitty; monkey snuggler)
pink lovey blanket
camera
3 hair bows
a roll of smarties
sparkly sunglasses (she is going to LA, afterall)
activity book
3 notes, each one addressed to: "Erik, Erica, Abram"
1 pair of socks
5 pairs of underwear
I'm proud that she knows how much underwear she'l need!