As Erik puts it, when i get an idea in my head about a project, I just have to get it done.
I redid the master bath, which really had to be done since the paint was no where near bathroom-grade, and it was starting to peel.
I went with brown colors (they look kind of red here, but the shade is really very nutty…it's Valspar, 2008-7C Cafe Miel and 2008-7A Natural Cork. We had some sort-of Asian red and gray stuff from the last time we actually decorated our bathroom, but that went with bold white and black tiling. This is much warmer.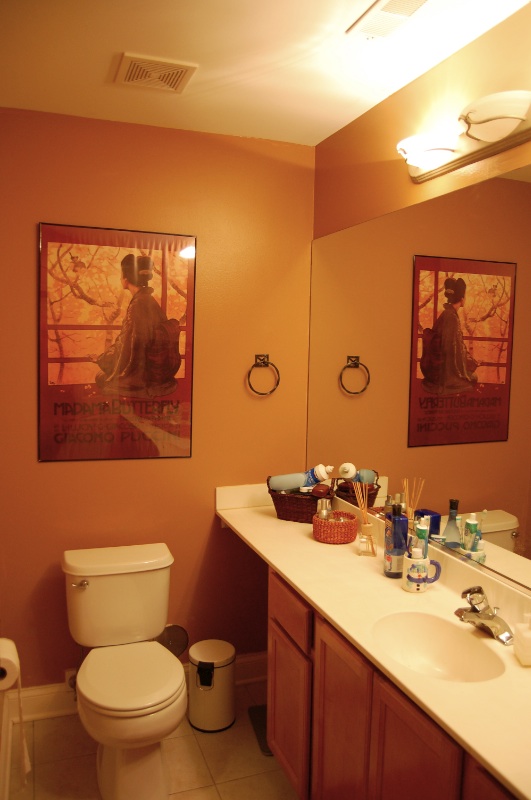 The tough thing about this was the weird layout of the bathroom. The developers of our building were apparently operating under the assumption that every unit had to have a soaker tub, and they would fit it in no matter the bizarre layout. (I'm not complaining about the tub, by the way…) So, our bathroom has this strange little alcove where the tub and shower are. Honestly, it's kind of like a cave. I've been thinking since we moved in about how to make this look decent, and I figured if it looks like a cave you might as well just play that up. So, that strange little alcove is painted in a much darker color than the "outer" bathroom.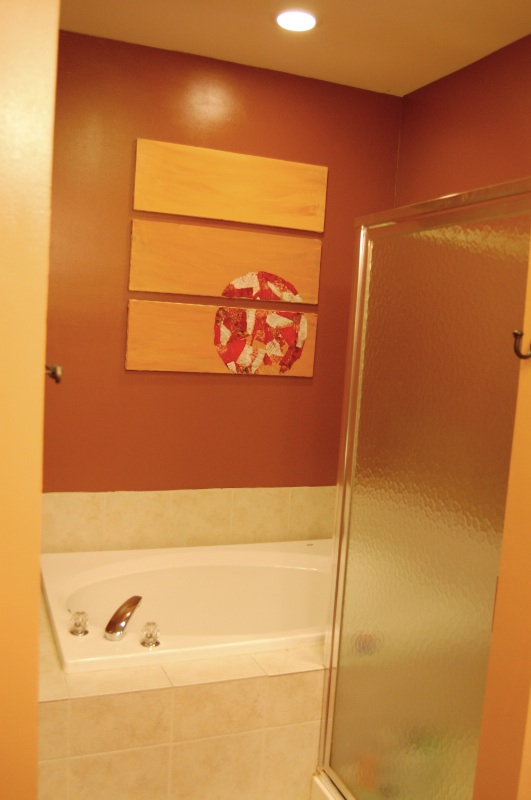 The wall hanging is the "art project" (as Zora calls it) that she helped me with. We had three canvasses in our living room what were painted 3 shades of red, but we weren't planning to hang them in this living room. I re-painted them in 3 shades of orange (I'm testing out some shades of orange for our bedroom, so I used 3 of the samples for the canvasses), with the red poking through. Then, we drew a circle on the bottom two, painted the circle with tacky glue, and layered origami paper, a textured red paper, tissue paper with red swirls, and text from 5 or 6 poems that I felt related to my feelings about my bathtub ("Morning Poem" by Mary Oliver; "Oda al limon" by Pablo Neruda; "Reading Myself to Sleep" by Billy Collins; "Nothing Gold Can Stay" by Robert Frost; "Morning Midday and Evening Sacrifice" by Gerard Manley Hopkins). Zora was particularly helpful with the tearing things up part of this process.
A coat of polyurethane over everything (I might add another coat) and there it is!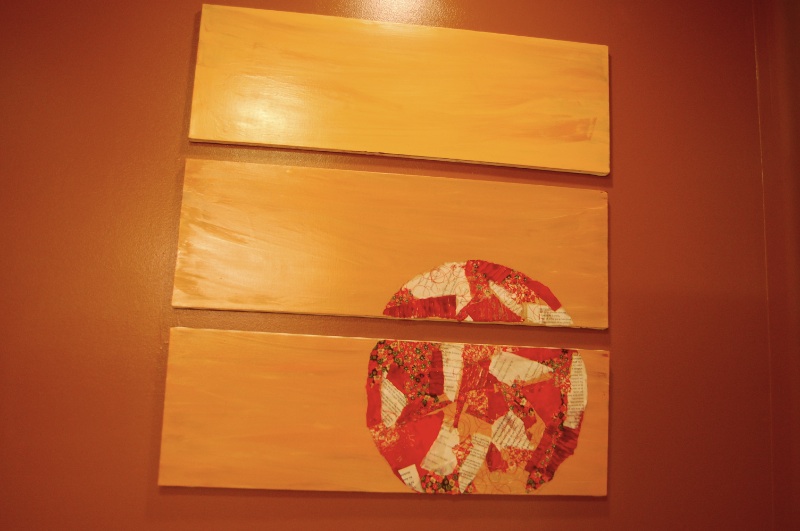 And then one other little project: there are too many light switches on one wall, and they were so white. I found some nicely shaped switch plates on sale and glued origami paper from the "art project" over them, polyurethane again (I am going to start covering everything in the house with polyurethane!), and arty light switches (there's also an outlet below them that you can't see in the picture.)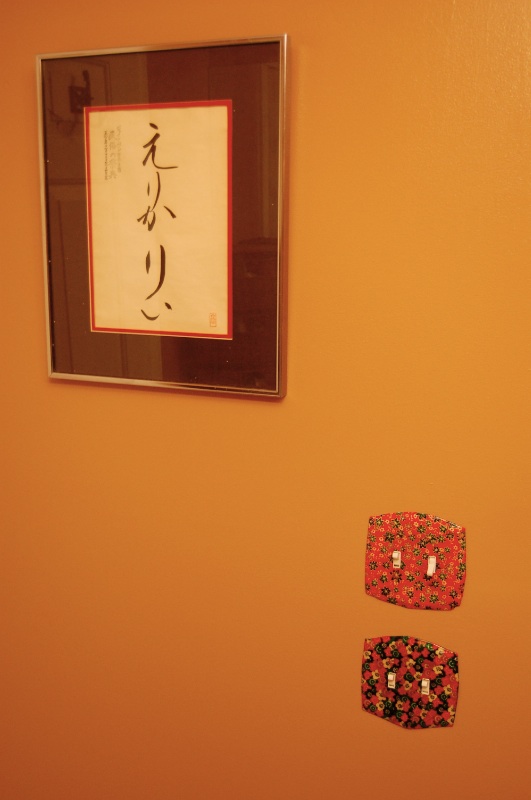 Today, I hope to pick up the rest of the house: we did this all over 2 and a half days when Erik was staying in the city overnight because of late work commitments. Usually, when he's gone, I turn into an odd combination of a messy bachelor and frazzled mama (staying up too late, eating junk food, in my pajamas until 2:00pm). So I am proud to say that I managed to stay partially sane, paint the bathroom, and keep up with the dishes. Other than that, things are a little sketchy around here.
Oh, and in the middle of all of this, Zora and I had quite an adventure, which you'll read about in the next post!