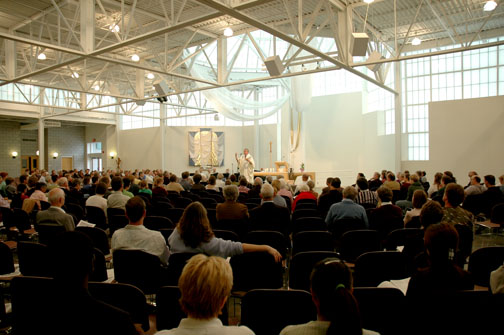 (I've realized I'm not keeping up with my "churches" series because I can't fully encapsulate everything I learned at a particular church in one post. So, from here on out, just a little something…)
Church of the Servant (COS) is a church I've been part of twice in my life: I was baptized there as a baby while my dad was in seminary; and it was my church during my own years at seminary.
I love many things about it (for instance, I think it might be the most beautiful space I ever worshiped in regularly).
But one of my best memories of it has to do with children. I remember a Sunday when one little guy "escaped" from his family, charged front and center, and slid under the expansive communion table. One of the high school kids (unrelated to this little guy) went after him, but the escapee was wily–he rolled around back and forth under the table, avoiding capture.
I loved this moment because the whole congregation took it so easily, and it said so many beautiful things about their worship. They could let something unexpected happen and take it as a blessing. They viewed the communion table as a place of joy. They valued the presence of children in worship. And, what a wonderful thing, to see someone truly taking refuge under the table, viewing it as a safe space, and helping us all to worship by laughing.
This was a church where moms routinely nursed babies during the service, where parents felt free to take kids to a nursery or keep them nearby, where kids owned the sanctuary as their space, too.
What got me thinking about this was this post about a pastor-mom and her daughter during worship. I have not taken Zora with me into worship, in part because I know myself, and I know that I would have a hard time concentrating on leading with her there. And I think this is a deeply personal choice for parent-pastors. Zora's got a good thing going if she can sit with dad in worship (or, the last few weeks, attend a service with grandma and grandpa, albeit at a different church). And different churches have different needs. For example, when I was at a church where there were emergency-disaster directions under the pastors' seat, I'm not sure that would have been a great setting in which to sling on a toddler.
But I wonder–would I dare? I don't know that the congregation I'm with now would react well. Shoot, I don't know how COS would react!
Maybe, someday, Zora will make that decision for the congregation. I think she is already showing the type of temperament that might move her to run to the front and made a dash for mama's lap. We'll see…