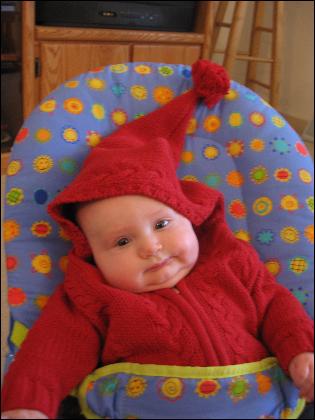 In December, my friends Heidi and Tim found out that their baby daughter, Samara, has cancer. Because she is so close in age to Zora, and because Heidi and Tim are so dear to me, she's been much on my mind. Last weekend, I got to visit her for the first time.
This is part of a message I sent to Heidi yesterday:
We're doing a congregation-wide read-through of the Bible this year, and this morning Erik and I were catching up on a few days, but I was so glad we got behind because there was this wonderful convergence of the Psalms we read that had me praying for Samara.

First, the line in Psalm 6 really hit me after you were talking about the medication that can make someone's bones ache while their white blood cell count is brought up:

O Lord, heal me, for my bones are in agony.

And, of course the whole Psalm doesn't fit perfectly, but then these lines seemed to resonate, too:

Turn, O Lord, and deliver me, save me because of your unfailing love.

No one remembers you when he is dead.Who praises you from the grave?

And then when we got to Psalm 8, this:

From the lips of children and infants you have ordained praise.

I understand that verse so much better now that I hear Zora experimenting with and enjoying her little voice. I think babies pray without knowing it. Doesn't that give new meaning to the idea that the Spirit prays for us even when we don't have words? So, I was thinking about how those psalms I heard this morning might fit in the catagory of prayers the Spirit helps Samara to pray.

I read this paraphrase of Psalm 6 once:

Let me live! I can't praise you in the grave!

Give me health! I can't think straight and sing so well for you in pain!

Save me from my temptations, the stumbling blocks and distractions that undo the work of your servant, that's me Lord, your servant…

I thought about that paraphrase this morning, too, and had this wonderful picture of you with Samara in the baby carrier playing piano, and of Tim singing to her, of her learning already how to sing and praise God.
If you're reading this, and you're one who's inclined to pray, remember to help the Spirit pray for Samara, and for Tim and Heidi. Samara has been doing really well, too, and so Tim and Heidi often ask as well that people pray for all other little children with cancer.
That's another thing about the Spirit praying: sometimes when we don't have the words, God gives them to other people.